Many people wanted to know how to post gif on Instagram comments. Instagram GIFs are increasingly popular and add more fun to the Instagram stories the audience shares on the platform. 
Adam Mosseri, head of Instagram, was announced while in broadcast channel chat with Mark Zuckerberg, CEO of Meta. Meta has added a new leaf with a new feature to Instagram that allows users to reply to comments on posts using GIFs from Giphy. "This is a long-awaited feature," said Mosseri, reflecting that it is a feature users have requested for many years.
GIF is already available in stores and on Meta platforms. Since 2020 GIFs can be included in stories with this type of animation, users are already familiar with the element. GIFs on Instagram are considered a minor novelty that was already possible to respond to in Facebook comments and WhatsApp chats.
Using Instagram becomes even more creative and fun: find out all about comments on posts with GIFs.
Instagram has introduced GIFs within Stories for some time now, but now the option is also available for comments on photos and videos. Thanks to this new feature, users can express their thoughts even more fun and creatively, using a large assortment of GIFs. Read on to find out how to post gif on Instagram comments.
The feature that allows you to reply to Instagram posts by posting a gif instead of the usual text comment is being rolled out. The function, as mentioned, is being gradually released, so if you still need to have the opportunity to leave a comment through a GIF, you have to wait.
Read also: How to delete Instagram comments from Your PC, iPhone or Android.
How to post GIF on Instagram comments: A Step-by-Step Guide
Here is how to post gif on instagram comments. To use GIFs in Instagram comments, open the app and select the post you want to reply to.
First Step: Log in to Instagram App (https://www.instagram.com)
Second Step: Find the post where you want to comment on.
Third Step: Tap the "GIF" button and search the library powered by Giphy. The different categories of GIFs to choose from will be displayed by clicking on it: from art to music, from sport to comedy.
Fourth step: Choose desired "GIF" and hit send to post it in the comments. Once you have selected the desired GIF, click "Submit," and the comment will be published.
Fifth step: Click on a GIF; it will automatically upload in the post in the comments.
Introducing GIFs in Instagram comments represents another step toward interactivity and creative expression within the platform. The ability to use GIFs in comments makes the Instagram experience even more fun and engaging, encouraging users to interact more dynamically and creatively with each other.
For companies and brands, introducing GIFs in Instagram comments represents another opportunity to engage their followers and create fun and engaging interactions.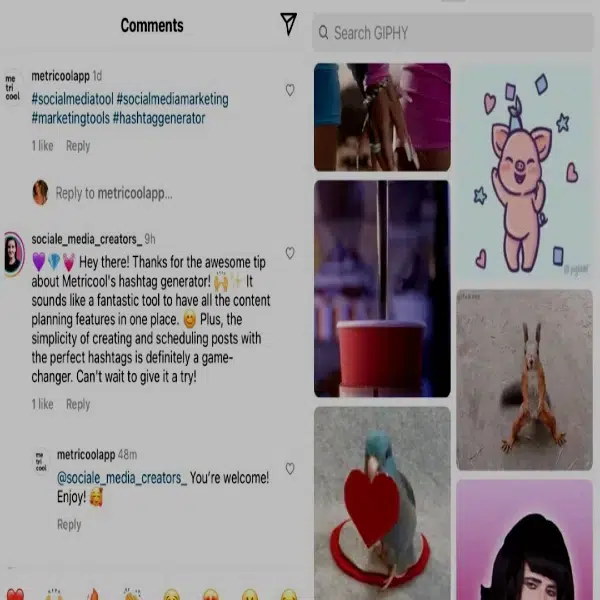 What if you do not see the GIFs in the comments?
Oddly, you may only have the app's most recent version if you see this GIF option in the comments section. Check for an update on the App Store or Google Play.
This feature may only be rolled out to your account if this resolves the issue. Instagram often slowly releases features, which can take months to reach all users.
Read also: Hublaagram APK Download – Get Instagram Followers Instantly.
Final Words
Instagram has added a much-anticipated function to use GIFs as your comments. Before this, users could only use emojis and text for comments. Users can also use Reels as comments on posts, but only under Reels. Now GIFFs added a layer of interaction in the comment section. 
However, this GIFs feature also comes with a downside. Some users spam post comments with unnecessary GIFs, and good comments go down. You can pin the essential ones if you want them to be removed from your post.
Frequently Asked Questions (FAQs)
Q: Can you post GIFs in Instagram comments on Android/ iPhone?
A: You can post GIFs on Android and iPhone devices in Instagram comments. You only need to search for the GIF you want to use in the GIF library and copy the link. Then, paste the link into the comment section, and the GIF will appear. It's a fun and easy way to add flair to your Instagram comments.
Q: How to Use a GIF as a Comment on Instagram Posts/ Reels?
A: To use a GIF as a comment on Instagram posts or reels, first search for the GIF you want to use in the GIF library. Once you have found the perfect GIF, copy the link. Next, go to the post or reel you wish to comment on and tap on the comment section. Paste the link into the comment section, and the GIF will appear. It's a simple and fun way to add personality to your Instagram comments.
Q: Can I upload and use my GIFs for Instagram comments?
A: Yes, you can use your GIFs for Instagram comments. Upload your GIF to a platform like Giphy or Tenor and follow the same steps as using a GIF from the library. Please copy the link to your uploaded GIF and paste it into the comment section of the post or reel you want to comment on. Your personalized GIF will then appear in the comment. Have fun adding your creativity to your Instagram comments!