Are you a freelancer on Fiverr but not getting as many jobs as you'd like? Your profile description is a key factor in attracting clients and getting hired.
In this post, I'll give you tips on how to write a Fiverr profile description that showcases your skills and makes you stand out. No more generic descriptions – I'll help you write a profile that will impress and get results.
Keep reading to find out more!
What is the profile description of Fiverr?
Profile description in Fiverr is to present you to the community of the Global marketplace. There is a lot of competition, so showcasing your talent professionally is important. Your profile must contain a short detail of your work experiences relevant to your offering of services. Inserting professional descriptions to declare your quirks and unique personalities shine through is essential.
Example,

Is Fiverr Gig Description has a Word Limit?
You must consider the word limit of 1200 characters in the Gig profile description section. Many freelancers use 1200 to 2000, but having a more comfortable word limit will be wonderful. Provide a short bio. And give bullet points to introduce yourself and your service within 2-3 sentences.
How Can You Improve Your Fiverr Profile Description?
Sometimes you win, and sometimes you lose buyers. Clients are not looking for your philosophy; they seek who catches their attention. Your philosophy will not add value, so change the tagline clients search for bloggers.
Your services should never be about you. The potential clients don't like you; they only want to know why they should hire you. You should give only your blogging expertise and experience to attract them.
Tips:
First, upload your original, smiling profile image and write short informative information about your experience and portfolio. A decent profile image will make clients familiar with you.
Second, Add your critical skills and certifications to your Fiverr profile.
Read more: How to Select Right Fiverr Tags to Improve Your Fiverr Gig Fast
How to Apply Fiverr SEO Description Writing Techniques for Ranking Gig
Your profile description is your resume for online marketplaces. Display your expertise to the clients smilingly and give descriptions wisely. Treat your profile description to introduce yourself professionally to potential customers. A significant-profile inspires enthusiasm and confidence in buyers' minds. It is essential to building your online career in various Global marketplaces. Do not overrate, and never take an order that you cannot succeed.
There are two simple steps to create a great profile description.
The first section tells buyers that you're actually so that they can trust you.

In the second section, tell them about your skills and expertise.
 You have to know better when to use the right keyword in your title to gig description. There are two simple steps to create a great profile description.
Use the right keywords: If you are not well versed in SEO and want to offer SEO services like Off-Page SEO. You have to know Off-page SEO well. You must contain the right keywords that entice buyers and help them buy favor from you.
Example,
You can use keyword-related backlinks in the description to show you know about SEO. If your Gig is not visible on the search result page, selling your service will not be easy.
Use related keywords to SEO: Your profile description will be visible and allow SEO-related services appearing on Fiverr.
Example,
When clients search SEO services like website design, you might show up if you are not offering the services, thereby giving the buyer more decisions to bookmark your service when their website is designed.
Note: Always state your service offer on your gig description to prevent buyers from purchasing the wrong Gig, which can negatively affect your order completion rate. Your Fiverr gig description must contain a short bio about your experience area and information that stands out from other freelancers. 
Read more: What is the Perfect Fiverr Gig Image Size in Pixel?
How to Make Fiverr Gig Description Samples for Logo Design?
First, you have to have good experience in your particular work. Write about your skills and previous work history, and then the buyer automatically attracts you to your gig. Advertise what you offer to potential clients that separate you from everyone else. Make sure your expertise area like-
It displays your talents, whether it's logo design, web development, data entry, content writing, or anything else. It is very much essential to demonstrate credibility through your profile description.
Include a friendly yet professional and trustworthy face
Use your profile description to be short and informative wisely.
List your accomplishments and prove your essential experiences.
Think of something you want to hear from a person to hire.
Be honest and open in your profile description.
Display projects you have done for other clients
Why and what are you in this field?
Example for profile description for Logo Design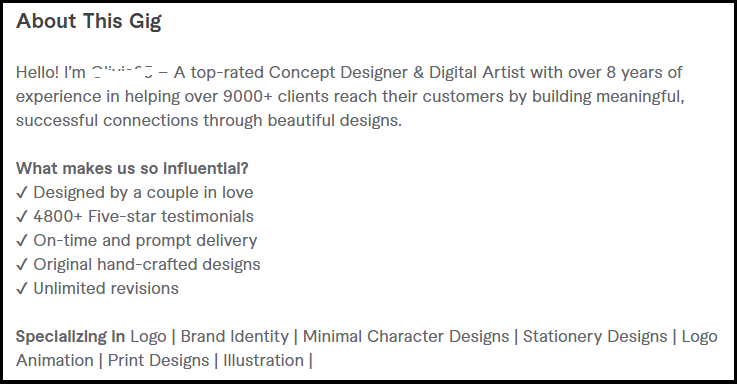 The best graphic design services for almost every brand is what I provide. I have more than ten years of professional experience and have more than 1000 clients worldwide. I love working on Fiverr to broaden my skills and work with a younger audience.
I am looking forward to hearing from you!
Fiverr Gig Description for Content Writing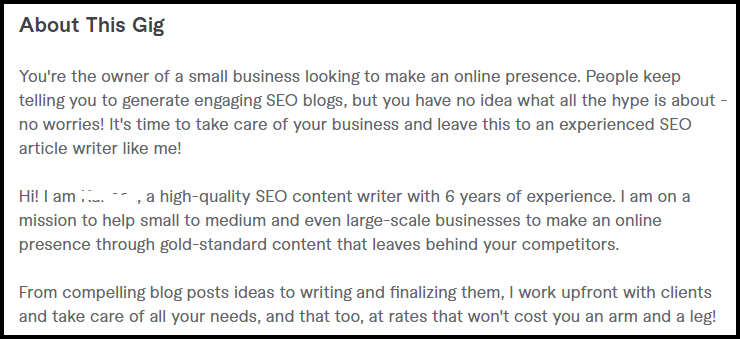 I am a professional writer with over five years of experience, ready to provide unique content, essay, article, and blog writing. Using my talents, I aim to boost your business brand visibility and turn it to the next level. Let us know your project's requirements, and get started will hit heights in no time.
Fiverr Gig Description Samples for Data Entry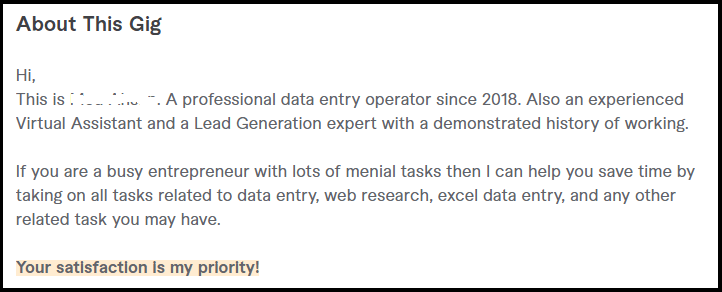 Are you stuck in a busy routine and unable to organize daily data like sales, expenses, vendor and customer lists, marketing surveys, and more like this? I am a virtual assistant with extensive lead generation experience and Excel expertise. I offer a 100% guaranteed solution for all your problems. Let us talk
Fiverr Gig Description for Photo Editing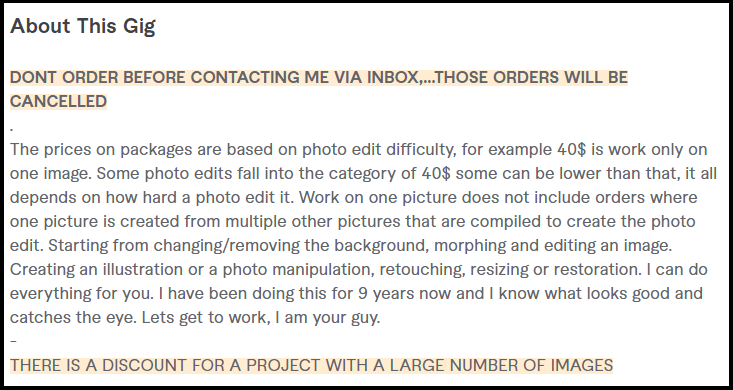 I am a marketing professional and by educational and creative photoshopped looking to edit services on Fiverr. I can apply different photo effects and create strong visuals regardless of banner ads, Social media banners, headers, or logos. Feel free to place your order now, and I will put my magic into your work.
Fiverr Gig Description for Video Editing

I have been a video editing freelancer for about four years and have completed 2000+ projects on Fiverr. I will edit your videos to look incredible and attract more viewers, including music videos, short films, YouTube videos, Thumbnails, drawing, coloring, and more. Please read my description carefully before placing your order!
Fiverr Gig Description for Web Developer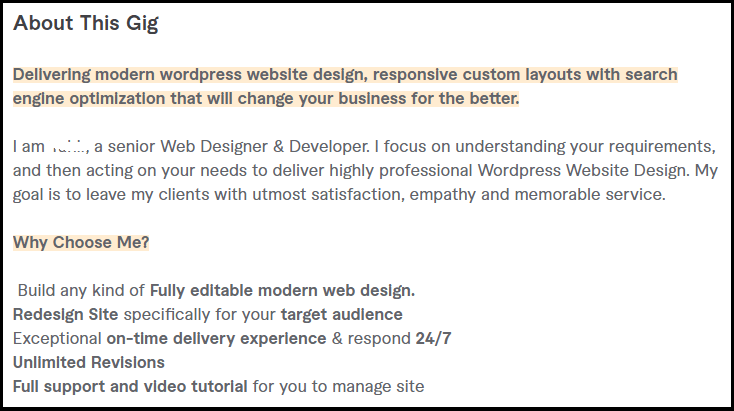 I am a full-stack web developer who has been working in the field for three years. I can develop your website's niche, designing, programming, and web applications using HTML, CSS, Elementor, WordPress, Wix, Shopify, WP Bakery, Squarespace, and Photoshop. I aim to build a professional and responsive website with a fast loading speed. Let us plan your project!
How to Write a Fiverr Profile Description?
On the Fiverr marketplace, most buyers look at the seller profile before clicking "buy." You have to make a tremendously informative profile that presents precisely your talent and identity. Well, optimize your profile to announce yourself and your aptitudes then clients ought to pick you. You must always carefully fill in every vital bullet point to attract buyers' attention.
Here are the top pro tips and tricks about Fiverr profile description ideas to win your buyers' minds.
Let's explain in detail!
Brief your introduction
There are two central description spaces in Fiverr: yourself and your Gig.
About yourself: Your introduction must be short but informative, don't add any irrelevant words that irritate buyers. You only have to cover profile descriptions within 600 characters, so you must be very specific and highlight your skill's key features.
About your Gig: This is a very crucial space provided by Fiverr to mention your core highlights about your offered services. It also uses relevant and well-optimized keywords according to your niche. You can consider the following points are:
Who are you
How buyers should choose you
All Key features that make you different from another seller Gig
Crucial inclusions and mandatory requirements
What all things are going to be excluded
Recommendations
Promote your Gig and read FAQs
Mention the achievements you have gained and the total number of completed orders successfully, etc.
Use simple and Basic English.
Use simple English in your profile description because most clients on Fiverr are non-native English speakers. They are not well-versed in English, so they avoid complicated English words or sentences. Your profile description should be straightforward to read. Make sure you have correct sentences without grammar and spelling mistakes. Proofread your profile description twice before adding it on Fiverr.
Show Your skills and experience.
Show your skills through an innovative method through a profile that demonstrates that you carry something exceptional. Write a short profile description of your area on Fiverr that will make you stand out among other sellers. You also write additional details and show something unique that will attract buyers' attention.
Focus on Buyer Satisfaction
Keeping your high level of client satisfaction will allow you to stand up firmly. It would help if you focused on buyer satisfaction as an integral part of your online business. Write in your profile description you will give unlimited revision and a money-back guarantee. Make sure your customer will be able to offer outstanding service with the aim of expectations. Your mind-blowing offers make your profile unique to stand out.
Call to action (CTA)
 Inserting a call to action button is vital in the Fiverr profile description. Some clients bounce off your service and don't buy it due to unanswered questions. Don't hesitate to encourage them to buy your services and leave a message if they have any queries. Ask your customers to contact you to clarify your services and see your portfolios.
Read more: How to Write a Killer Gig Title for Fiverr to Easily Rank
Conclusion
You have to remain; this is not just a bloody blog post; it's complete research work for your integral secret of becoming a successful freelancer in the online marketplace. A great profile is like a mirror that fills the buyer's bottom soul with joy and energy. Write the best fiverr profile description using some great engaging words that help to encourage your buyer. You must explain who you are and the goals that make you work.
Read also:
How to Write a Killer Gig Title for Fiverr to Easily Rank
How to Select Right Fiverr Tags to Improve Your Fiverr Gig Fast