Are you looking to improve your website's search engine rankings and visibility? SEO tool seoview.io can lead your business website by providing high-converting keywords for quality content marketing that will save time and money.
Then you need the right tools for the job. In this article, I'll take a look at the SEO tool seoview.io, a comprehensive SEO platform that can help you achieve your goals. With features like keyword research and site analysis, this platform makes it easy to get ahead of your competitors.
Read on to learn more about the SEO tool seoview.io and why it's a great choice for your website. So, keep reading.!
What is the SEO tool seoview.io?
It is a computer program that helps people optimize their websites for search engines, especially Google. SEO tool seoview.io typically comes from an extension for your browser. You can easily free download it from the websites of the manufacturers.
About SEO tool SEOview.io
SEO tools SEOview.io is an excellent practice tool for SEO that is spying on competitors and keyword research, which covers all SERP data. It has become a comprehensive and powerful SEO tool that leads business and learns about your competitors. Let's know about the important aspects of the SEO Tools Seoview.io
Keyword research: You will get billion of keyword suggestions, related long tail keywords, and keywords difficulty (KD).
SEO Data(s): Users will get insights while performing Google searches, like any website's organic keywords, backlinks, and domain authority (DA).
Competitor Ads: The SEO software monitors your competitors' marketing strategies by spying on Google ads and Facebook.
Visualize data from SERP: With the tool, you can process of visualization of data(s) from SERP that help you decide-
Domain authority (DA)
Keywords CPC
Monthly organic traffic and value
Millions of keyword recommendations
Monthly search volume
Keywords competition
Number of backlinks to competitors' websites
See Facebook ads
How SEOview.io works?
SEOview.io software works with Google, like the Chrome extension. You can open Google's home page and type your search term; the page looks average to Google SERP. However, you will get several additional data; you can see the box at the bottom, which is the same as what you would see in a regular Google search. You will get essential SEO metrics for the top SERP links of the boxes. With your strategies, you can refine the information. The software includes some extraordinary features that can help you with strategic planning.
SEO tool seoview.io is a unique software for SEO that makes it easy for businesses to optimize their websites. It has a simple interface; anyone can manage it without getting overwhelmed. In addition, the tool comes with free updates & upgrades that provide at no cost.
Read also: Small SEO Tools Review: How to Use It Properly?
SEO tool seoview.io Design and functionality.
The internet has a few positive reviews that the tool performs well. However, some SEOview users reviewed it worked only for Google.com and did not work on other foreign Google sites. The main reason the tool is quite simple designed and produces quick results.
The tool's design is straightforward for new users to SEO to understand and use. The agency provides clear graphics that need a larger font and can easily adjust display settings to view features and metrics in large font.
You will get a demo video that shows the key features of the tool are:
Show the competition, volume, & CPC keyword searches
It shows the domain authority of competitors
Show the monthly traffic & traffic cost of competitors
It reveals the number of backlinks for each competitor
The tool provides millions of keywords, suggestions, and ads for the competition.
It shows Facebook & Google keyword data for top competitors.
SeoView lifetime plan and cost
It offers two service plans, a month and a lifetime subscription. The website mostly promoted lifetime offers instead of monthly, along with banners. Lifetime quoted priced at $59 with a 20% discount of $47. Lifetime offers have limitations for users; they can do 1000 keyword research per month using backlinks, SEO data, Facebook data, etc.
SeoView monthly subscription price is $27, and you can do unlimited keyword research and get access to SEO, Facebook data, and backlinks.
Lifetime deal terms are:
Lifetime access to its plan
Must redeem cost within 60 days of purchase
60 days money-back guarantee
Lifetime keyword research and recommendations
Spy competitor's ads & SEO strategies
Visualize SEO data from SERP
SEO competitors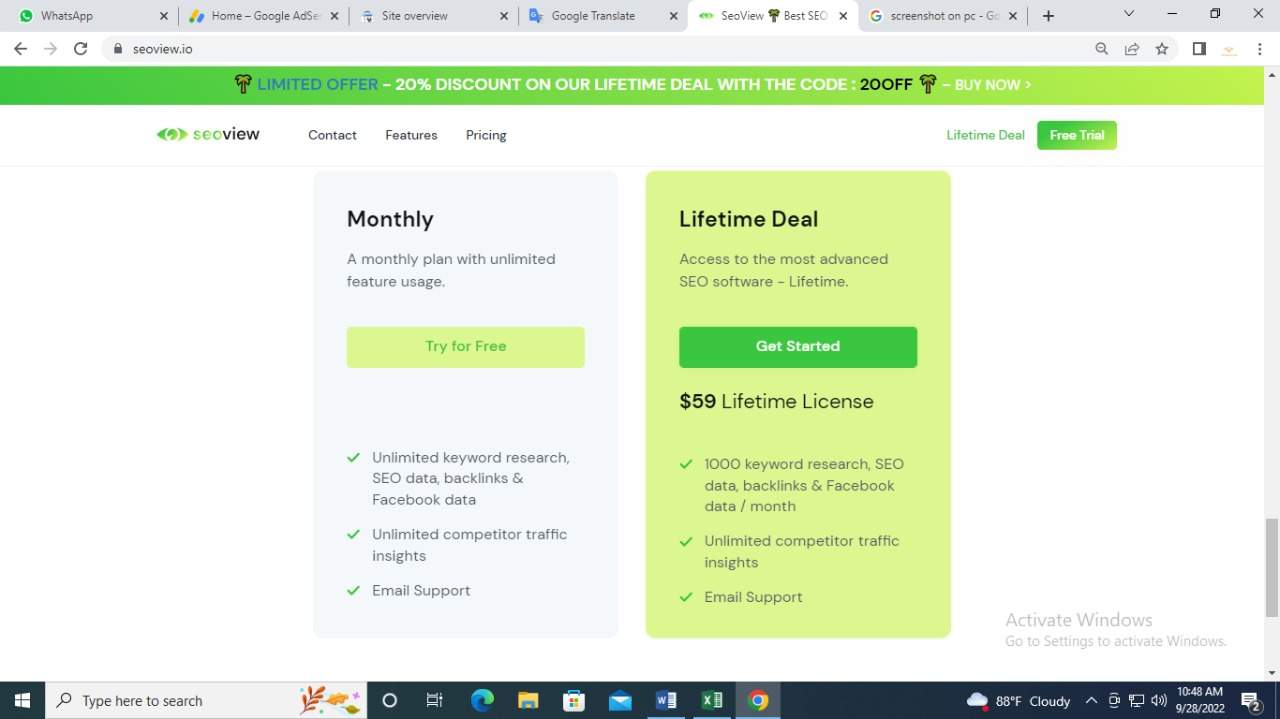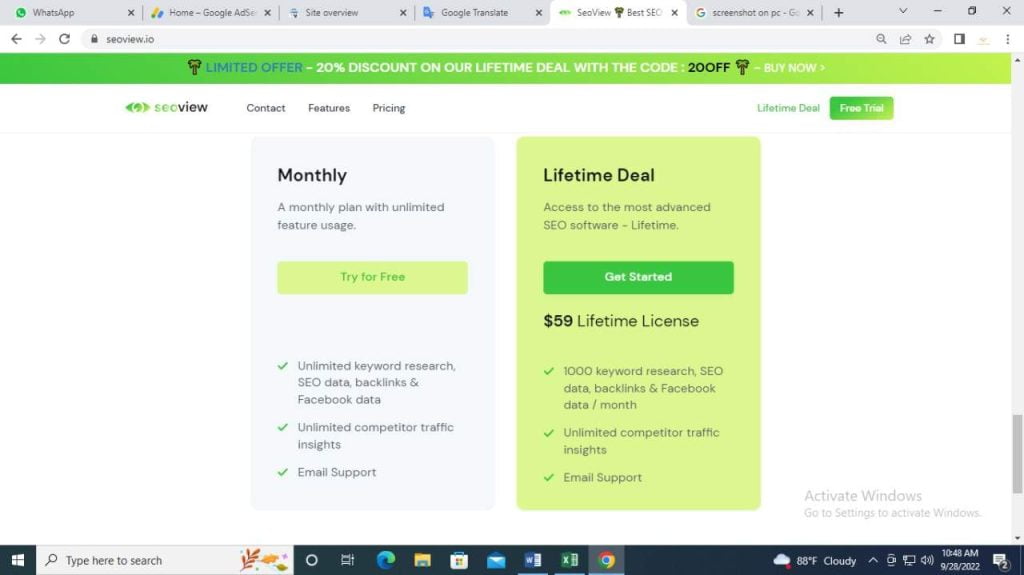 SeoView Worth
The website claims a lifetime offer with a 20% discount to create urgency for site visitors to purchase their services. However, the cost of $45 for a lifetime deal may not be worth the investment. How they compare to their competitors may need to be more excellent value at first glance.
Users can search in high volume from various free SEO tools like SEMrush, and Ahrefs, that has advanced functionality compared to SeoView and offer a price of $45
SeoView only covers part of the task as a paid software program. Therefore, free SEO tools for basic tasks are better than paid software without complexity.
Read also: Pepper Content: The Real-Time Solution for All Content Services
Top 10 reasons people like SEO tools seoview.io
Here are discussed the top 10 reasons people like the SEO tool seoview.io. Let's drive more deeply.
1. Best SEO tool
You can get a lifetime deal because quite easy to use, and users will have no trouble navigating the software. Users who visit the site can find anything with little difficulty and no need for help from others.
It is to search, unlike other websites. Users who search for the website will quickly realize they can find everything without trouble. You can search for anything like interest or topic in this tool and develop yourselves in a particular field with the guidance of articles here.
2. The tool is educational
SEO tool seoview.io. It contains a library of articles about various topics that educate readers and offer tips on how to learn a hobby or trade easily on their own. The tool helps users find what they need and teaches them how to do it.
The website provides educational information, articles, and books for those who want to learn about a new topic or learn more. People will find different information on this tool, including how to use a computer, the benefits of the property, and how to do everyday activities like cooking and shopping properly. In addition, the website teaches you how you can better their lives through reading & writing poems or articles.
3. It is interesting
The tool can provide link-building and keyword research strategies, and SEO can help a website gain traffic through algorithms of search results. Users will want to stay for a long duration because they learn something new and enjoy learning about it.
4. The tool is distinctive.
The quality of articles and topics, which are unique compared to other websites, characterizes the website's writing styles. In addition, the website has many interesting features that excite traffic and make it easier to learn what they require.
It provides a forum where users can write about their life experiences that encourages them to share their knowledge, like cooking, dating, and listening to music with others so that every user can be educated.
5. It is more entertaining.
The tool is very entertaining because it provides interesting content that is perfect who like to read. Of course, people can only stay at a site for a short time; they get bored, but this website has many categories of articles to entertain.
The website becomes more popular and grows larger daily among the people who visit the site.
5. It is safe
The tool is very safe to visit because there is no illegal content or viruses. Therefore, people browse it without fear of being exposed to something dangerous.
6. Easy to create an account
Easy to create an account; those who visit the site will experience no trouble creating an account and logging in. People will not face any problems when signing up for an account. The website has the best interface and allows you to create an account easily.
7. Quick response for users' orders
The website provides quick responses for responding to users' orders. If users feel problems with their payment, like wanting to change the details of the account will be solved easily. People can communicate and get things done on the site whenever they need to change or update their accounts.
8. User-Friendly staff
It has SEO-friendly staff that responds first and helps those interested in its website services. The support team is available 24/7 to help people with their questions and issues. If anyone wants to know more, they can find SEO tools SEOview.io. Then, the website staff can figure out and provide the best solution.
9. Good Reputation
The website has an excellent reputation among the people who visit the site once. Most people have a good impression of the site after reading or watching its article is great for people looking for something new to read or see on the internet.
10. Positive review
Many users have written positive reviews about the tool and show a lot of respect for the website regarding its services.
The disadvantage of SEO tools SEOview.io
SEO Tools Seoview.io has no link page about the company; it registered copyright in 2021. There is no contact form for the software; the user experienced an error and could not respond to queries. You will get little information online; it currently shows a link at the bottom about SEO consulting services, but it only sometimes works and leads 404 error page.
I have to share a few potential downsides & drawbacks of SEO tools SEOview.io are:
You will not get more information about the software, and no contact form for nonmember site visitors needs to be fixed.
The tool does not work on Worldwide Google sites.
You can search for keywords of 1000 per month.
The website links only sometimes work correctly; it led to 404 error pages.
The price is high, although the monthly subscription allows unlimited keyword searches.
How SEO tool seoview.io Compare to its competitors.
A business owner looking to spy on competitors will get many free tools to perform basic tasks without pay. These are the top four free SEO tools that are
Moz, one of them, is an attractive and well-laid-out tool that shows monthly search volume, keyword difficulty, CTR, and priority score for each search term. The organic CTR shows how many users use the term follow through and click the results; its priority score aggregates the keyword difficulty, volume, and opportunities in a simple interface and how easily ranks that keyword.
Moz SERP analysis includes free search results, giving the top ten specific sites that raked for exact target keywords. Users can see the Title, URL, DA, PA, and several backlinks to the root domain. You can see ten queries free a month.
SEMrush is one of the giant free tools that offers several free services. The tool gives you access to over twenty billion searches from 120 geographical databases. In addition, it offers free reports include, including monthly search volume, keyword difficulty, competitive density, and many more.
The tool helps you sort keyword, apply a smarter filter, and quickly exports your findings. In addition, it helps to see related keywords with similar key phrasing. For example, using your free account, you can search for ten quarries daily.
Ahrefs is another free tool that pulls the top 100 keyword ideas from its database of over eight billion keywords from 170 countries. The tool display keyword like search volume, keyword difficulty from 01 to 100, updated recent results, question-related search term, and many others.
Using the tool, you can identify long tail keyword research, low, competitive key phrases, and geographical areas. The tool allows export data, and it pulls data from Google. In addition, ahrefs provide free SERP analysis service on a separate page. With every new search, you can create a free account with free services to prove you are not a robot.
Ubersuggest
SEO Tools Seoview.io offers you healthy information with the free version and displays search volume, SEO difficulty, CPC, paid difficulty, etc. It also identifies the number of backlinks you need to rank your target keyword on Google's first page.
You can see a scroll-down list of keywords, ideas & page content ideas related to blog titles. In addition, it provides more export data to CVS and a free chrome extension to see the right SERP data easily. The free version limits a single domain and three keyword searches daily.
Read also: What are the Best Content Writing Tools for SEO to Get More Traffic