This article discusses how to get free and quality YouTube Backlinks and make the most of them. Backlinks are active hyperlinks that refer to the original page with the video for promoting the video on YouTube to help to increase views quickly.
Backlinks are a crucial part of your website's SEO and ranking factor. However, it is challenging to find free backlinks that provide quality backlinks that pass link juice that can help your site. Did you know you could get free YouTube Backlinks?
YouTube Backlinks are free and pass link juice and affect into SERP ranking of your target link.
What are YouTube Backlinks?
YouTube Backlinks that direct links from YouTube toward your website. These are placed videos that you upload on YouTube, which users click to get your website. They are usually categorized based on the types of links that can be either Dofollow or Nofollow backlinks.
Dofollow links can be inserted in 4 places on YouTube Customs links, the profile, video cards, and video end screens.
The nofollow attribute tells the search engine not to follow the tagged outbound links, essentially saying that the site does not endorse the backlink.
The benefit of YouTube Backlinks
Link inserter in video description plays an important role for a few reasons. Such as, if at least 3% of video watchers will click on your website link, that can benefit over 30,000 site visitors and potential customers. Just imagine this percentage can be much higher.
In this case, traffic from the social channel will be significant and radically change the position of your site's ranking. If a link points to relevant web pages, Google will rate your link as higher quality. It is worth mentioning that High-quality YouTube backlinks happen when relevant video meets quality. You have to ensure that you create engaging and quality video content relevant to your website's niche.
The Ultimate Ways to Get YouTube Backlinks
YouTube is the world's largest Web 2.0 social media platform, with three billion monthly searches and five million videos viewed daily. It is the perfect opportunity to boost and rank your website through this media by creating a winning link-building campaign. It will increase overall search ranking and increase your brand awareness. Therefore, focus on the quality and relevance of the backlinks for your website.
If you are working on SEO for your website, the YouTube video-sharing website can be a powerful source of quality backlinks. There are several ways to get quality backlinks on YouTube.
You can place a link on YouTube in two main areas: the channel description and the Description of each video.
There are two main areas to place your link on YouTube: In-Channel Description and Description of each video.
In Channel description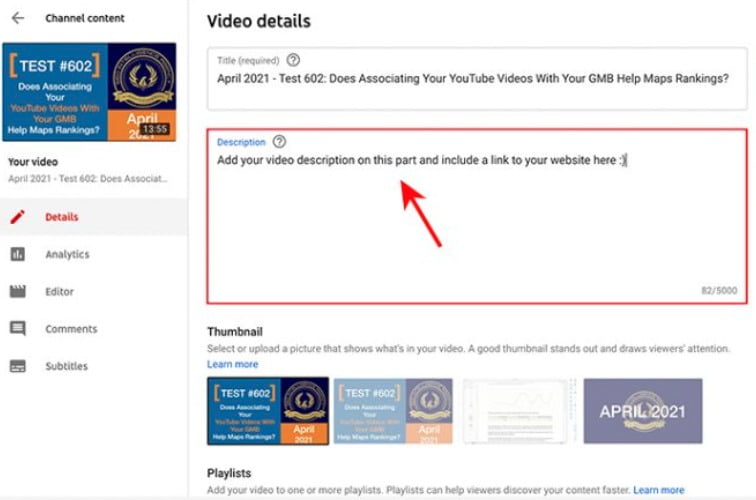 If you have a dedicated YouTube channel to do edit your channel description and add a link to your website. Add a short description of the video content and a link to the page you would like to link to.
Description of each video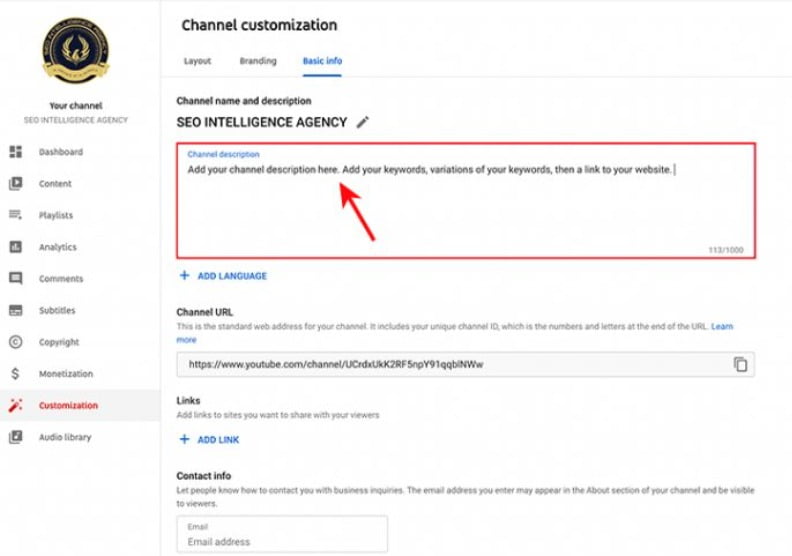 Having a YouTube channel for your business or website is a good content marketing tool. It is an easy way to create content and spread awareness of your business brand. It is the most popular social media network after Google.
More people turn to YouTube, which provides a free resource of backlinks and promotes your brand and business.
Once you have created links using your channel and another, set up a video collaboration with other content creators. It will help you get more video backlinks and gain exposure from viewers from other channels.
There are a few options for building YouTube backlinks to your website. I want the first option to build your channel, create your own video content, and promote brand awareness and additional traffic sources. Ranking videos benefit your business and website and are an option to consider.
Note: First, upload the video to YouTube and ensure it is exciting and engaging. You should upload exclusive and original video content and put a link in the video description, which should look natural. Otherwise, users consider it an advertisement and will not follow your link. Place your relevant link near the top of your description text that will most likely be clicked on. 
Instructions:
One: Include the link to your website when uploading videos to your YouTube Channel. Paste the URL in the description section below the video.
Two: Fill the Website section of your YouTube profile with the URL of your website.
Three: Comment on the YouTube video and include your website URL as a part of the comment. Many people include themselves as a part of their signature. Such as, you can write something like. "Amir, https://aroushtechbd.net."
Four: Copt the embed code of a video posted on YouTube and embed the video on your website. YouTube displays the URLs of different sites with links to particular videos, thus creating backlinks to your website.
Tip: Use your web analytics referring sites report to track how much traffic comes to your website by clicking your YouTube backlinks.
Conclusion
YouTube Backlinks are high-authority links that are completely free and can help increase your website's rank.
Read also:
160+ Free Dofollow Web 2.0 Sites List for quality Backlinks 2022
Top 200+ Dofollow Forum Posting Site List for Better SEO (with DA)
60+ High Authority Free .Edu Backlinks Site List for SEO
300+ Best Do-follow Profile Creation Sites (With DA and PA) 2022
Top 250+ Dofollow Free Backlinks sites list with DA in 2022
100 Dofollow article submission sites with instant approval 2022
250 High DA Blog Commenting Sites List to Get Dofollow Links 2022
80+ High PR Wiki Sites List for Backlink 2022 [Updated]
50+ High DA .Gov Backlinks Free Sites List for SEO Ranking 2022